Playa de Amadores er en av de nyeste og raskest voksende feriestedene på Gran Canaria. Feriestedet ligger i bukta ved siden av Puerto Rico. Distansen mellom de to feriestedene er 5-10 minutter i en taxi eller 20-25 minutter på en flott klippetopp-tur.
De fleste hotellene på Playa de Amadores ligger flott til på fjellsidene med fantastiske utsikter over stranden og Atlanterhavet. Her ligger også områdets beste hotel, nemlig Gloria Palace Royal Hotel. Hotellet har en enestående utsikt (se bildet til høyre), og det er separat barnebasseng, barneklubb, spabad og gratis trådløst internett på hele hotellet.
Stranden i Playa de Amadores
Playa de Amadores har en utrolig vakker 500 meter lang strand med EUs blå flagg. Stranden er kunstig oppbygd med hvit sand fra Karibien og nokså grunt turkist vann. De massive moloene tilbyr kraftig beskyttelse mot de Atlantiske dønningene og bølgene, som gjør dette til en bra strand for svømmere og barn.
Det er mulig å leie vannsykler, mens de fleste andre vannsportaktiviteter kan prøves i Puerto Rico. Det er derimot forbudt å spille ball og høre på radio på stranden i Playa de Amadores.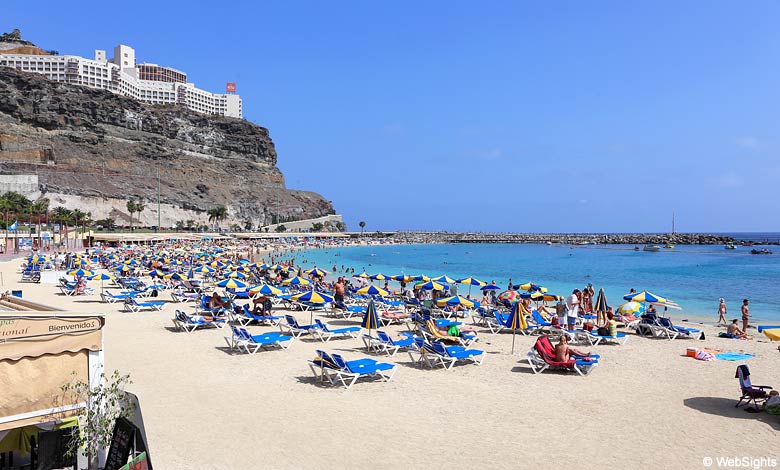 Restauranter og nattliv
Det er et stort utvalg av restauranter, caféer og barer bak stranden og i de to shoppinggatene i nærheten.
Playa de Amadores er veldig stille på kvelden og natten, men det mye mer livlige Puerto Rico er ikke langt unna.
Attraksjoner og aktiviteter
Playa de Amadores byr ikke i seg selv på noen attraksjoner. Det er derimot ikke langt til Puerto Rico, hvor det er aktiviteter for både barn og voksne. For barnefamilier anbefales det å ta en tur i Angry Birds parken, mens de voksne vil nok være mer interessert i en båttur til den vakre byen Puerto Mogán.
I Puerto Ricos tre store sentre kan man bruke mange timer på shopping, selv om det er langt mellom merkevarebutikkene. I Playa de Amadores ligger det litt færre turistbutikker nede ved stranden.
Playa de Amadores kart
Kartet er sentrert rundt den flotte stranden. Som man kan se på kartet, så er det forholdsvis god avstand mellom de store familiehotellene i Playa de Amadores. På kartets høyre side kan man se utkanten av Puerto Rico, hvor hotellene ligger veldig tett på hverandre.